I think it's a common desire among Christians—to grow and mature in our faith. But sometimes we don't know where to start or even how to keep going. But there are plenty of resources to help you grow your faith!
[The following post contains affiliate links. You can read my disclosure here.]
Growing Your Faith isn't about being a "good" Christian.
Growing up I subconsciously believed that there was a checklist for "good" Christians. Things they would do that somehow made God happy with them.
Maybe that checklist wasn't even completely subconscious. I realized this later in my life when I stumbled upon one of the "giving envelopes" mailed to our family each year by the church I grew up at . There was one for each week of the month, date stamped on it, with a literal checklist.
Things like number of visitors brought, money given, Bible read daily… And I remember as a child wondering, "Are 5 days close enough to daily?"
I'm so thankful for that church. So many good things—leaders that loved us, a community, deep teaching—but still, in the midst of all the good I never felt good enough. And a lot of that had to do with my messed up thinking. We all find significance somewhere, and when we find it apart from Christ, the process of looking for it is exhausting.
That may be a strange introduction to a post about 100 resources to grow your faith, but I thought it was important to start there. I don't want you to get the idea that I think you need any of the resources I'm going to share below. They are simply tools to help you, ones that you can pick and choose from or not.
Because the truth is, you only need a few, even though we have a lot more available to us that can help along the way.
The two things you need to grow your faith.
What do we need to grow our faith?
Pretty pens?
A large study Bible?
A specific translation?
Commentaries?
Concordances and dictionaries?
Discipline?
A check-list?
Accountability?
A seminary degree?
Nope.
Many of these things will help. But the 2 things you need are…
1. An understanding of grace.
A relationship with God isn't about how many days in a row we have a quiet time, or how eloquent we pray in a group. It isn't about the number of Bible studies we attend or how many people we share Christ with. When we believe that Jesus is the Son of God, and that he died for our sins and rose again so that we might have eternal life, then we have a relationship with God.
For by grace you have been saved through faith. And this is not your own doing; it is the gift of God, not a result of works, so that no one may boast. Ephesians 2:8–9
It isn't about what we have done or will do but about Who He is and what He has done.
It's about His grace. And understanding His grace—both how we come to faith and how we live out that faith—is essential to our "growing up" as Christians. Because it's a relationship, and we can never do anything to lose that relationship. But just like human relationships, our relationship with God can grow and deepen over time as we get to know Him.
Resources on Free Grace Theology
I highly recommend you read these two books on free grace theology. You will experience true freedom in Christ when you recognize that you don't have to do to be a Christian!
You can also learn about how we can be grounded in grace through the teaching ministry of my home church (scroll down to the podcast titled "Grounded in Grace").
2. A teachable heart.
If we want to grow our faith we must humble ourselves in obedience to God. We need a teachable heart. A heart that seeks after God and desires to do His will. Do you remember what Jesus said the greatest command was?
And he said to him, 'You shall love the Lord your God with all your heart and with all your soul and with all your mind.' Matthew 22:37, emphasis added
And how do we show that we love God?
If you love me, you will keep my commandments. John 14:15
But we are not left alone to power through this on our own. In John 14:16, Jesus goes on to say,
And I will ask the Father, and he will give you another Helper, to be with you forever.
Grow Your Faith Through Bible Study
Did you know that an apple actually rots from the inside out?
It can still look shiny and red on the outside, but the inside may be slowly turning brown and mushy. When you take a knife and slice it to the core, you will know what condition the apple is really in.
God word is like that knife. It gets to the core of who we are. And because of that, growing in our faith begins with the truth that transforms.
For the word of God is living and active, sharper than any two-edged sword, piercing to the division of soul and of spirit, of joints and of marrow, and discerning the thoughts and intentions of the heart. And no creature is hidden from his sight, but all are naked and exposed to the eyes of him to whom we must give account. Hebrews 4:12–13
"We need God's wisdom for this homeschooling journey, but more importantly we need Him! God gives us many ways to connect with Him in a personal relationship. Whether prayer, Bible study, a community of believers, or a combination of all three—we have the opportunity to draw near to Him. When we do, he draws near to us (James 4:8a)." Read more in How to Stay Connected to God Through His Word.
I love using the Inductive Study Method for studying the Bible. These are all great options for learning how to study the Bible for yourself.
And even though I don't always agree with Jen Hatmaker's theology, I did love her book on how to study the Bible. If you enjoy journaling (with words, not drawing), then you will want to check it out.
Bibles
For Bible study I prefer to use several different translations. Generally I study from word-for-word translation such as the NKJV, NASB, and ESV.
I love the NKJV Study Bible: Full-Colors Edition by Nelson. The study notes, cultural background information, and word studies are excellent.
I also read from he CSB version (I have the She Reads Truth Bible). "The Christian Standard Bible employs a translation philosophy known as Optimal Equivalence, which seeks to achieve an optimal balance of linguistic precision reflecting the original languages with readability in contemporary English." If you struggle with understand the Bible, or simply want a fresh reading of it, check out the CSB.
Here is a helpful Bible Translation Guide to help you choose the best one for you.
Journaling Bibles come in almost any translation now. I love the wide margins for taking notes. Yes, many people use them for drawing and decorative lettering. I'm so thankful for the different ways we can interact with the Word, and how creative and artistic some people are. But for me, journaling is about writing.
Bible Study Tools You Can Use to Grow Your Faith
If you like to dig into the Word yourself, you'll want some tools to help you mine for the gold.
Many study Bibles have a concordance at the end of them so you can find related Bible verses, but they aren't complete.
A good Bible dictionary will help you define unknown and key words as you study.
After you have studied a passage for yourself, many consult a good commentary to see what Biblical scholars have to say about the meaning of what they are studying.
Concordances & Dictionaries

Commentaries

Swindoll's Living Insights Commentaries are so readable and practical! Here are just a few of them:
Free Bible Study Websites
Resources for Bible Journaling & Notebooking
As I'm writing this post, I keep hearing Julie Andrew singing "These are a few of my favorite things…" The following are completely optional when it comes to journaling and notebooking as you study the Word. You can use a simple spiral bound notebook and pen or pencil.
But if you would like to invest in a few quality journals, these are some of my favorites:
Journals
Pens & Highlighters
Flair pens are bright and smooth. Frixion pens are erasable (just don't leave what you've written in a hot car…your writing may disappear. But if it does, stick it in the freezer). And these highlighters are also erasable. Yes, I make a lot of mistakes so I like things that erase 😬
Binders
You can use a simple binder or a decorative one. It doesn't matter 🙂 But binders can be great for putting together a notebook to help you grow your faith.
I like pretty binders, yes. But my favorite is this flexible binder and it comes with 5 tabbed pocket dividers, 60 college ruled pieces of notebook paper, and 20 sheets of graph paper. I love the way you can fold the cover over and it lays flat for writing. My sons both use these for their college work.
New in the Shop!
Growing Faith: Establishing Strong, Deep Roots will help your to nurture your faith as a homeschooling mom.
In it you'll find:
Articles about connecting to God through the Word, prayer, and community
Workbook questions to help you think through how you can apply the principles you are learning to your life
Information, notebooking pages, and printables to help you create a Spiritual Growth Notebook & Journal
A simple guide to prayer
My system for combining the Inductive Bible Study Method with Scripture writing and journaling
Free
Subscribe to my email list and get Who I am in Christ: A Scripture Writing & Prayer Journal for FREE.
Online Studies for Women
Several of these ministries include printed Bible studies as well as apps. You can even join an online Bible study with Proverbs 31 Ministries. And She Reads Truth now has studies for your children available too.
Published Bible Studies
My favorite published studies for individual and groups have been by Cynthia Heald. Her "Becoming a Woman of…" series is excellent. And Myrna Alexander's study Behold Your God helps us to understand the character of God.
Also check your local church for studies so you can join other women as you study.
For the Homeschool Heart Series from Table Life Blog
And 100 Verses for the Homeschool Heart 💛
Grow Your Faith Through Prayer
I think we overcomplicate so many things in our Christian walk. Perhaps in the area of prayer we find this the most true. So let me start with this. Prayer is simply talking to God and listening to Him. It's a holy conversation, a surrendering of our will, an aligning of our hearts with His.
In Becoming a Woman of Prayer Cynthia Heald helps women develop a more intimate relationship with God through prayer.
There are so many incredible books on prayer! I highly recommend both A Praying Life by Paul Miller and Prayer by Timothy Keller.
Here are some great resources from my friends Emily & Courtney:
Get the 21 Day Homeschool Prayer Challenge from Table Life Blog and Praying Before Planning for Your Homeschool Workbook from Grace, Grow & Edify!
Grow Your Faith Through Community
"The Trinity exemplifies what it is to live in perfect community—as One, yet with distinct roles. And like God the Father, Son, and Holy Spirit, we are designed us to live in community." Read more in How to Stay Connected to God through Community.
One great way to build community for yourself and your kids is to join a homeschool group or co-op. If you don't have one, we offer community, resources, and curriculum through Your Virtual Homeschool Group by Homeschool Master Academy.
Grow Your Faith by Understanding the Truth
You are enough is a popular phrase among women, but the truth is we will never be "enough". But guess what? When we know that we aren't enough, we can focus on the One who is! Read more in You Are Not Enough (But the truth is even better!).
One of my favorite Bible studies on this topic is Becoming a Woman Whose God is Enough by Cythia Heald.
Living in the age of smart phones and social media isn't easy.
One of the biggest concerns of homeschool moms can be see in the question: Am I doing enough? We can fall into a trap when we constantly worry about this as a homeschooling mom. But that thought is really about fear! And it's a fear we don't have to live with.

Grow Your Faith through Marriage
Marriage and parenting helps us to grow in our faith as we learn to love and serve one another. I can't think of any earthly relationships that will refine us in quite the same way.
The following books are excellent books on marriage:
From my friend Susan:
Winning in Marriage Starts with Know It's a Team Event from The Sparrow's Home
Grow Your Faith Through Parenting
Sometimes you need a little encouragement…
On our family relationships:
Think of these books as a way to see parenting with some helpful advice thrown it. There are no formula's to raising perfect kids. But we can be faithful to trust God in the process. These books have a lot of wisdom to help us along the road.
On our relationship with our teens:
Moms, please don't stop doing things for your teens. They can still grow into responsible adults…promise. from A Sparrow's Home
Parenting Bible verse collections from Growing Curious Minds:
Grow Your Faith: A Woman's Heart
I define what a "heart-to-heart homeschooling mom" is in my about page. For one thing, as heart-to-heart homeschooling moms, we nurture our own hearts first so that we will be able to speak to our children's hearts. We draw deeply from the well of God's wisdom and strength in order to give to our children daily.
Yes, I believe it starts with our heart.
Grow Your Faith During the Holidays
Easter
Thanksgiving
You can sign up for an 8 day scripture writing and prayer challenge that help us to be thankful on a level that changes our hearts and attitudes and motives.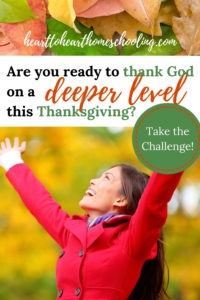 Christmas
This post includes a free 7 day Christmas devotional to prepare you heart for the Christmas season.
And one from my friend Susan:
Waiting for Emmanuel from The Sparrow's Home
Grow Your Faith in Homeschooling
Yes, homeschooling is another one of those things that God uses to refine us. And how we choose to homeschool does matter when it comes to both growing our faith as well as our children's.
Grow Your Family's Faith
These are a couple of our favorite Bible story books for young children. The Beginner's Bible was one of the first books each of my boys read aloud to me. We would open it up and read one story a day. They are so special to me that they each have their own copy that I will keep and give to their own family some day.
This beautiful books was given to me by a friend. You'll find as much in it for you as for your kids.
These are both great story Bibles for reading aloud to your kids.
Our boys both "stick figured" through the Bible with several of the Grapevine Studies.
Kay Arthur and Jann Arndt have an entire series of Bible studies for kids using the inductive study method:
Faith Based Resources by Amanda Bennett
First Steps in Faith—An illustrated Bible storybook for grades PreK- 2 that includes 92 daily Bible story studies, explaining God's Word in simple language the can understand.
Athletes in the Bible—Designed for 4th-8th grade students, this 4 week study capitalizes the passion for sports so many kids have. You "can use this Bible study to combine their sports interests with God's Word, building character traits that last a lifetime."
Heroes of Christianity—"This is a collection of stories from the history of Christianity and the world, targeted for 4th – 8th graders, and includes tales of wonderful missionary heroes such as Paul, St. Francis of Assisi, John Williams, David Livingstone, Mary Slessor and many others, ranging in time from the first century A.D. to 1901 A.D."
Holiday Unit Studies by Amanda Bennett
Christmas—This unit study from the Unit Study Adventure series, a 4 week study for K-12th. Daily lesson plans include two levels of assignments: elementary and secondary. "Learn what the world was like at the time of Christ's birth. Use this study to help your children understand the significance that the coming Savior had for so many people. Read about the prophecies that were fulfilled by His birth, and begin to clearly see God's hand in history since the very beginning of time"
Easter Promise—From the Download N Go series, this 1 to 2 week study is perfect for your K-4th grade learners. "Beginning with Palm Sunday and continuing on through Ascension Day, immerse yourself in the events of Jesus' last week on earth. Experience the awe and wonder contained in Jesus' miracles, Passover, the Last Supper, and the Garden of Gethsemane.
Your children will explore the true meaning of Easter as they investigate this amazing week and grow to understand God's greatest gift to His children. The promise of Easter changed the world forever. This Easter study is sure to do the same for your family."
Easter—Like Christmas, Easter is from the Unit Study Adventure series, a 4 week study for K-12th. "As we celebrate Easter, this study gives us the perfect opportunity to instill in our children a better understanding of our faith and the reason for our joy during this season."
From Table Life Blog:
From The Sparrow's Home:
Find More 100 Things Lists
You can find more great lists of "100 Things" from the bloggers at iHomeschool Network: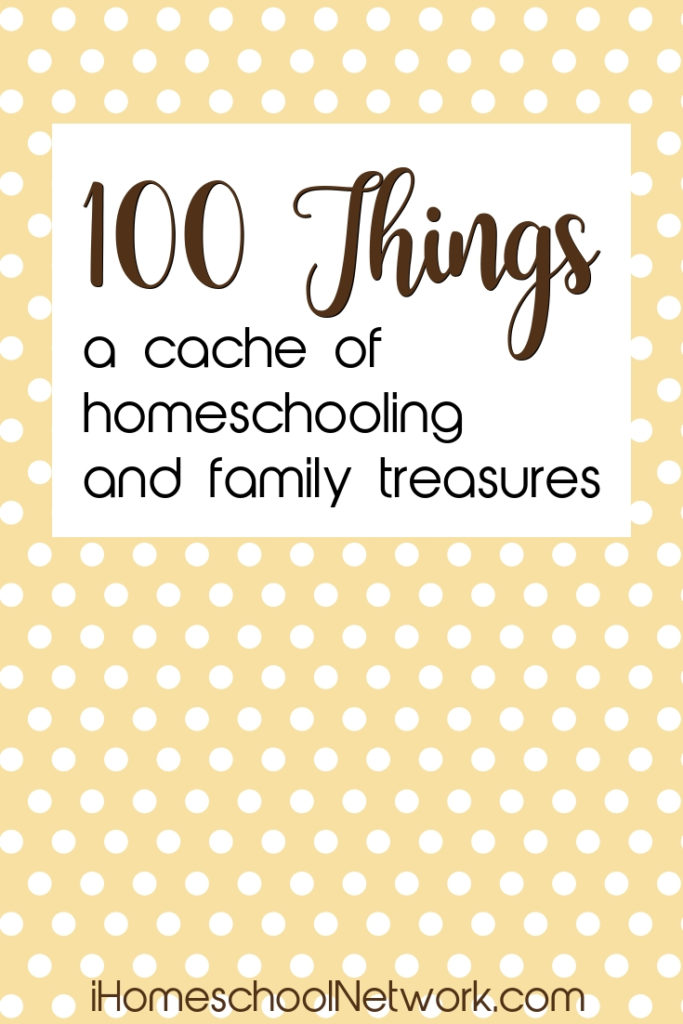 ✤
Scripture quotations are from the ESV® Bible (The Holy Bible, English Standard Version®), copyright © 2001 by Crossway, a publishing ministry of Good News Publishers. Used by permission. All rights reserved. May not copy or download more than 500 consecutive verses of the ESV Bible or more than one half of any book of the ESV Bible.