[The following post contains affiliate links. You can read my disclosure here.]
If you've read much on this blog, you know I'm a big fan of a natural learning approach. To me it just makes sense. How do children learn to speak? By listening and imitating those around them. Not through board-book textbooks, formal grammar lessons, and worksheets. That sounds silly, I know. And yet it is how we approach teaching Language Arts skills. And it seems it is how we teach foreign languages, too.
So you can imagine my excitement when I read these sentences in the Teacher's Guide for Foreign Languages for Kids by Kids®:
Most of us acquired our first language by experiencing life with others and learning to understand the words around us through context. We believe this is the most natural and useful way to learn a foreign language as well.
Be still my heart 💛
Online Spanish for Kids Using a Natural Approach
I received the product for free and was compensated for my time, writing this review, and hosting the giveaway. All opinions are honest, and I was not required to post a positive review.
I have to start by saying I really wish this program had been available when my kids were younger. Obviously, it aligns with how we approached teaching Language Arts, but it is also simply FUN.
Perhaps you can picture this: I'm sitting in my living room as I'm going through the lessons. And I found myself not just watching to see how the program was put together. I was talking back to the computer. I found myself saying the words aloud. I raced to see if I knew all the words during the Rapid Review Challenges. (And I was kind of glad no one was at home.) Because I wan't just looking through a curriculum to review it.
I was learning Spanish.
So give this homeschooling teacher a manzana.
Online Spanish for Kids That is Easy to Use
One of the things I like about this course is how easy it is to use for both parents and students. For homeschooling moms, there is an automatic Scorecard for keeping track of the quizzes complete with the kids' scores, as well as a Gradebook that records when your students logged in last. (There are also Teacher Guides available, but we'll talk about those more a bit later.)
The full course, levels 1-8, takes your students through a day from breakfast to bedtime. The goal is to teach your children conversational Spanish. So when your students initially log in, they simply click on the level they are working on and begin watching the videos of a family interacting and speaking in Spanish only.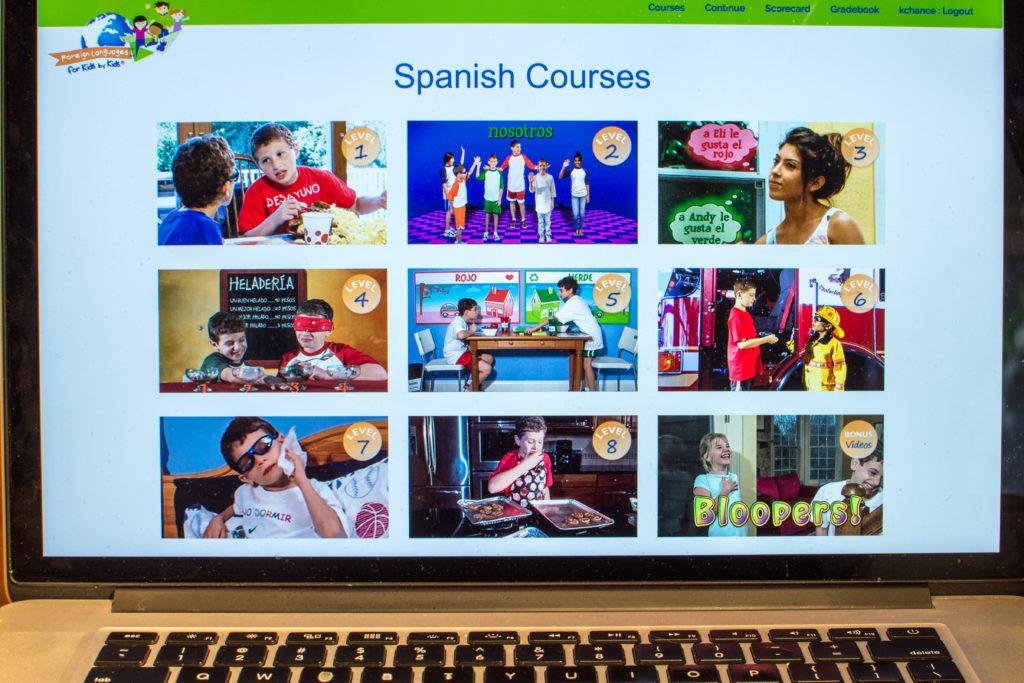 Each of the levels has
4 lessons
A Rapid Review Challenge
Listening and Reading Quizzes
A Comic with Squisher the International Inchworm
Squisher Comic Quick Questions
Culture & Geography to read about
A Culture Quiz
An online Workbook: Language & Activities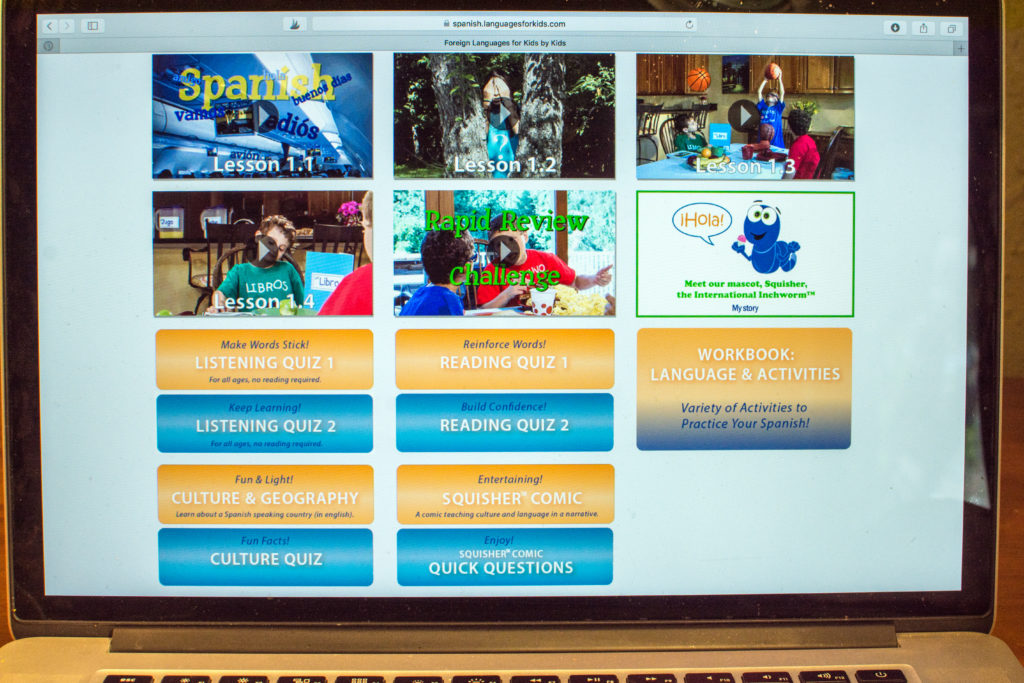 After watching the videos students work through the quizzes and other activities on the screen for that level before going on to the next.
What I love about the lessons
1. The videos immerse students in the language. The family in the video speaks only Spanish, but there are visual clues throughout to help children figure out what they are saying. The vocabulary for the lesson appears on the screen during the story as well as segments highlighting the definition of the words. Because the approach is a natural one, students are absorbing rules of grammar, spelling, and usage.
2. Kid's both see the words and hear them in the lessons and in the quizzes. And if they miss something during the quiz they can view the explanation.
This is important! Immediate feedback is essential as children learn anything new. That way they don't get in the habit of using the wrong word.
3. Since the goal is to learn conversational Spanish, there are plenty of opportunities to review, complete reinforcement activities, and watch videos again. Students don't have to get everything the first time they watch a video segment. They don't need to (and it would be unusual if they did.) Remember how children learn to speak? They repeat words, make mistakes, and try all over again.
And through the activities they will encounter it in multiple fun formats. They practice and review in ways that are engaging to them.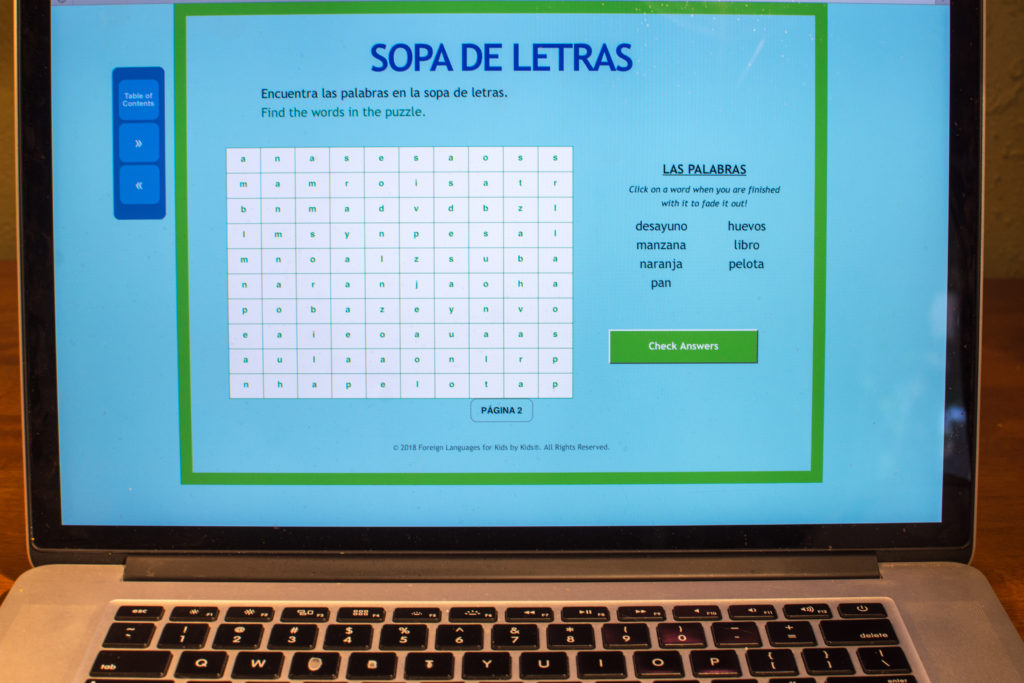 Resources For Kids Beyond the Online Spanish Components
The creators of Foreign Languages for Kids by Kids® understand that kids learn in different ways. And because of that they offer additional resources such as flash cards, workbook pages, and activities to extend the online or DVD based lessons.
1. Student Workbooks.
Although this "In-Flight" magazine is included in the online program, some kids need a physical copy to write in. There is also an option to buy a DVD version of the program, so this printed version can be used with it too.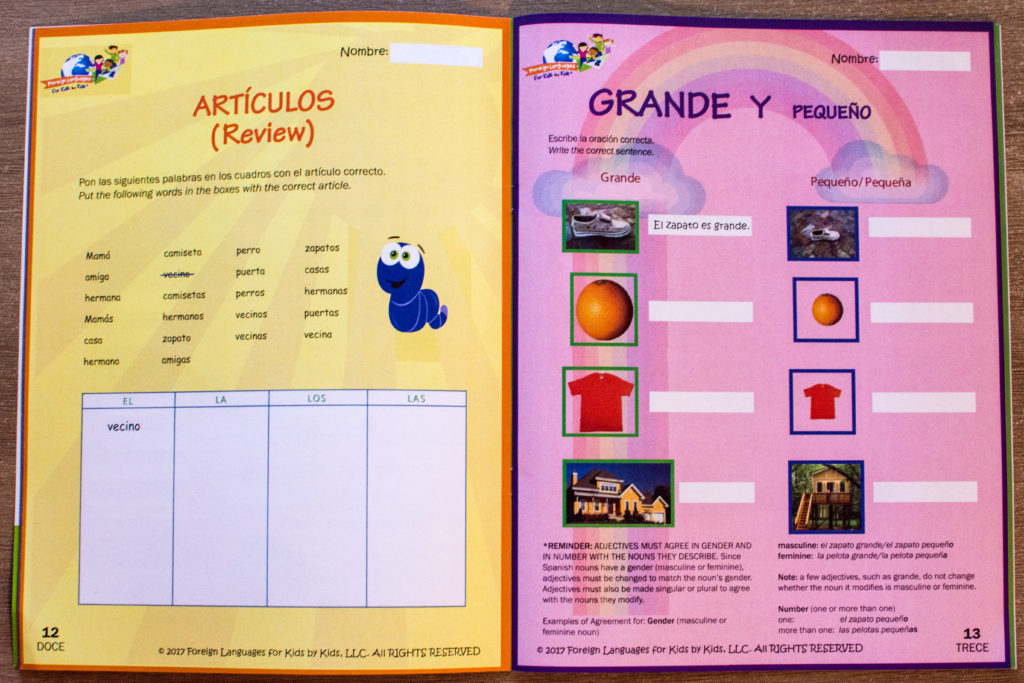 2. Flash Cards.
These quality cards available for each level can be used in as traditional flash cards, or to play one of the four games you can find in the Card Games booklet. These are made just like playing cards and are durable enough to last for years.
3. Sticker Sets.
You can place these stickers on objects around your house. With the immersion approach to teaching a language, lessons don't stop when kids finish watching a video. The more they encounter the vocabulary in their world, the more they will remember it. Making connections between what we learn in a curriculum and life is when real learning happens.
4. Fun Additions
And yes, your child can play with all the stuffed versions of their video friends.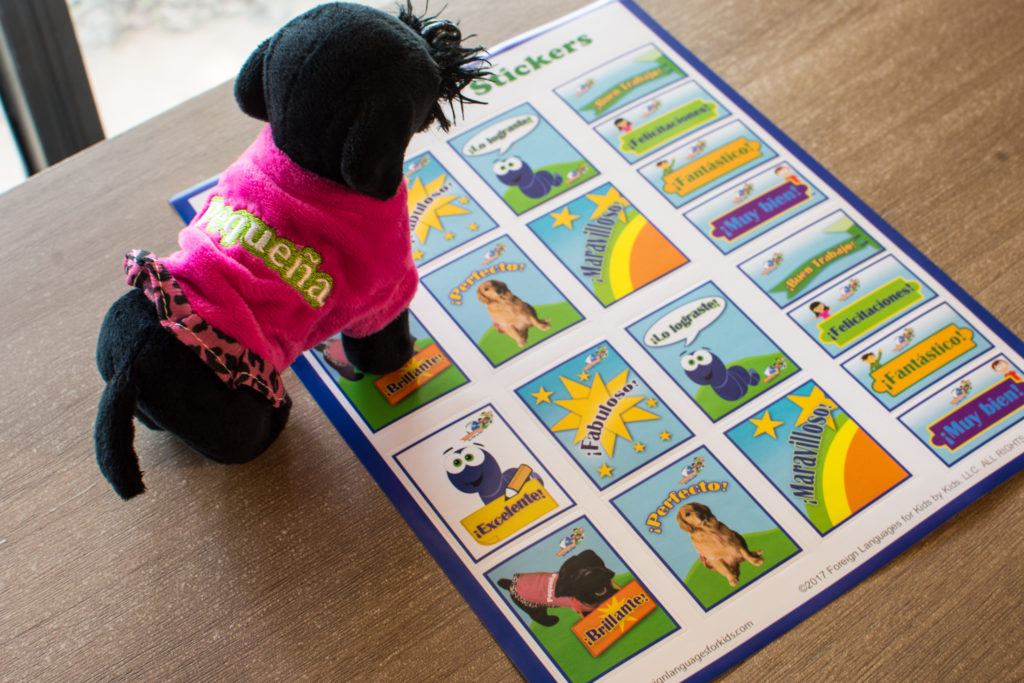 5. Teacher's Guides.
Best of all: Foreign Languages for Kids by Kids® has done all the work of incorporating the resources for you. Teacher's Guides are available that will make lesson planning easy!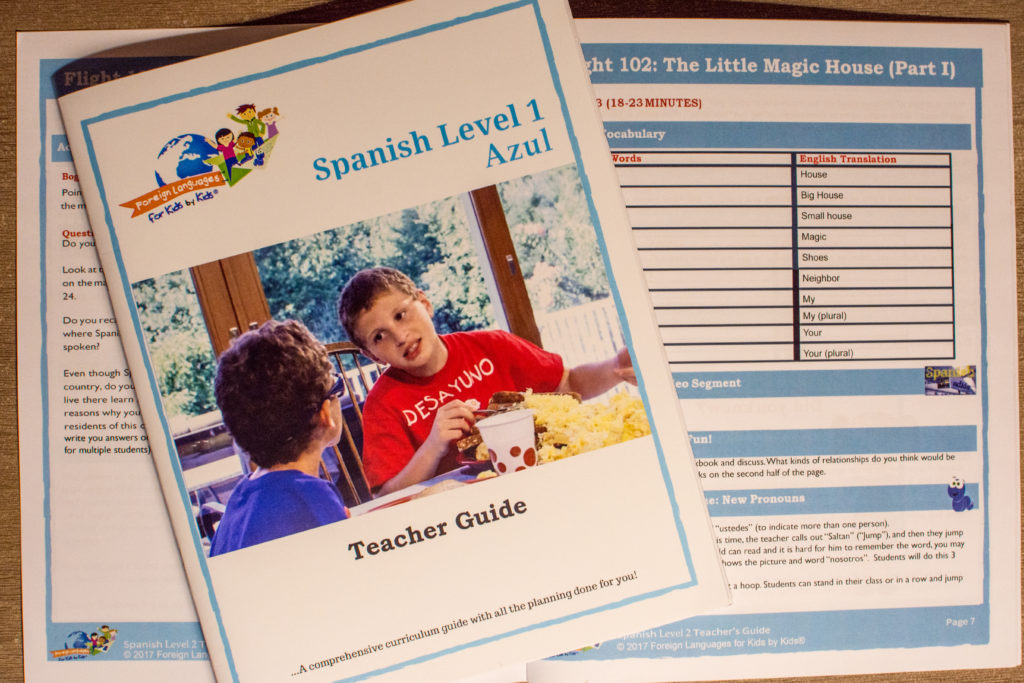 Online Spanish for Kids
I really loved Foreign Languages for Kids by Kids®. It is the kind of foreign language program I wish had been available for my kids. When children are young, it is the perfect time to learn a foreign language through the immersion approach. To learn it naturally.
This online Spanish program makes it easy for both kids and their parents. And you may just learn some Spanish yourself, Dear Homeschooling Mom!
A Note from the Author
I want to share this message from the author of the program,
Our team dedicated ourselves for 6.5 years to create an outstanding Spanish curriculum for homeschoolers. We did our absolute best to pay attention to every detail in the creation of this program to provide the highest quality experience for students. In addition, we have been listening to what homeschoolers tell us they want in a language curriculum. As a result, we have added new products and revised others so we could provide a program that 1) has many options to choose from since students have different learning styles and interests; 2) can be used in as little as 15 minutes twice a week either independently or with parental involvement; and 3) will inspire children, motivate them to learn foreign language long-term, and has excellent results.
That sounds pretty good to me 😉
Discount
Don't miss this great offer. Use the coupon code 20OFFFORYOU grants 20% off any order. Valid through April 30, 2018. This includes
Giveaway
Prize shipped only to USA addresses.