[The following post contains affiliate links. You can read my disclosure here.]
Are you feeling a little overwhelmed during this time of year? All the things—planning, shopping, decorating, baking—while trying to teach your kids can feel like a little bit too much sometimes. But let me encourage you. Your end of the semester doesn't have to look exactly like the rest of your school year to still be effective. Relax and take advantage of the many learning opportunities this Christmas season so you can celebrate Christmas while finishing your semester strong.
Christmas Learning Activities for All of Your Children
Language Arts
Have beginning writers practice their fine motor skills.
This book helps them as they do mazes, trace, and connect dots with using a Christmas activity book that can be used over and over again!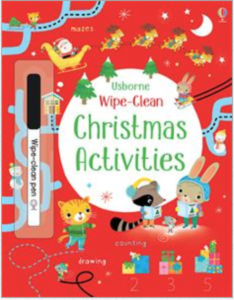 Read a book and then watch the movie.
Choose one of the following to read aloud with your family, then have a fun family night to watch the movie version. By both reading and watching the movie version, you open up a great opportunity to discuss similarities and difference between the two. Ask questions like,
Did the movie version capture the characters and scenery the way you imagined them when we read the book?
Did you enjoy one more than the other? Why?
What did you like about the book over the movie version, or the movie over the book?
Would you recommend either to a friend? Why or why not?
What is one book you would like to see made into a movie? What actor would you choose to be the main character? Why would you choose that actor?
And of course, you'll need to be sure to include food for movie night—whether you stick with popcorn and candy, make Turkish Delight to go with Narnia, or have a Dickens of a Dinner 🙂
My top two picks:
The Lion, the Witch and the Wardrobe by C.S. Lewis & The Chronicles of Narnia: The Lion, the Witch and the Wardrobe DVD
A Christmas Carol by Charles Dickens & one of the many versions!
Create a family newsletter.
No matter what the ages of your children, they can all contribute. Include stories from the past year, artwork, even advertisements. Get creative and have fun with the project.
"Paint" and write Christmas cards.
Kids simply brush water over the scenes to bring out the color. They can then write messages to family and friends inside before sending them in the envelope provided.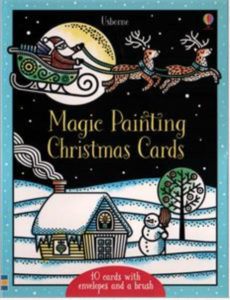 Practice rhyming skills.
You will love this activity from Pool Noodles & Pixie Dust: I Spy the Rhymes in 'Twas the Night Before Christmas.
Spend time having good conversations.
Some families like to simply share a high and low from their day. But whatever you choose to do, spend time talking. Not only will you strengthen your family relationships, but you will also help your children develop a powerful language skill—the ability to participate in the art of conversation.
Math & Home Economics
Plan, shop, and eat.
Have your children plan, shop for, and cook a holiday meal. And it doesn't have to be the traditional turkey one, either. Sometimes our family picked a theme and had everything from soups, to enchiladas, to pasta over the years.
I like to call this life-schooling because it involves using skills such as planning, budgeting, following directions, and math. As I shared in The Ninja Homeschooling Mom's Guide to Teaching, your children can learn multiple skills with a simple trip to the grocery store. And the holidays are the perfect time to do just that.
Enjoy some Christmas themed math assignments.
From from You've Got This Math:
10 Gum Drop Math Activities for Kindergarten through 5th Grade
Free Elapsed Time Word Problem with a Christmas Twist
History & Geography
Research how people celebrate Christmas around the world.
It can be so much fun to learn about how different people around the world celebrate the same holiday. Before doing this, my kids and I had never thought about the fact that it is the beginning of summer in Australia. Just think about how that influences their traditions.
Use this as an opportunity to teach your children how to do research online and at the library. Then choose some of the following activities.
Create a notebook that includes information such as traditions, songs, and foods popular in each country you study.
Use an outline map to chart all the places you learn about.
Compare Santa Clause/Saint Nicholas stories and legends.
Do a presentation for your family. You can even include foods specific to the different countries you learned about.
And if you need a little more help, check out these resources:
Find out the stories behind the traditions.
Here are some of our favorite resources:
The Adventure of Christmas: Helping Children Find Jesus in Our Holiday Traditions by Lisa Whelchel
A helpful website: WhyChristmas.com
Science
Learn about winter weather.
Help your kids research the following questions:
What is the difference between rain, freezing rain, sleet, and snow?
What makes a winter storm a blizzard?
How can we stay safe during winter weather?
Have them observe the weather each day and write it down on the calendar. Record the temperature highs and lows, weather conditions, etc.
Here are some great websites to check out:
Art & Music
Create some art.
Your kids will get step-by-step instructions to create Christmas themed pictures and scenes using their fingerprints!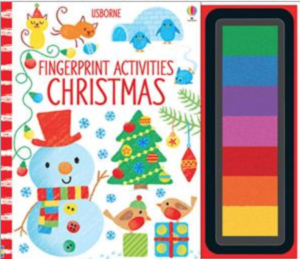 Make it colorful.
Pick up a coloring book for your kids (and maybe you too!) Coloring is a great activity to do while listening to a story or Christmas music.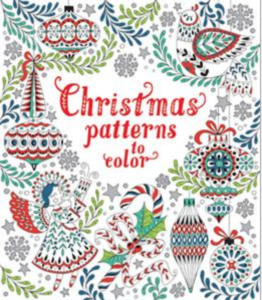 A few other ideas…
Find out about the Christmas Carols we all enjoy.
Christmas Carols for a Kid's Heart includes devotions, stories of the hymn authors, and a CD to sing along with.
Unit Studies
Try the Christmas Unity Study by Amanda Bennett
Bible/Devotional Time
Look forward to Christmas by celebrating Advent.
We began to do this when we discovered a series of books by Arnold Ytreeide. The first book in the series is Jotham's Journey. Each night we lit the advent candle, read a section of the story, and talked about it. There are three other books in the series, so it became a family tradition for us: Bartholomew's Passage, Tabitha's Travels, and Ishtar's Odyssey.
And if you want some Advent crafts, The Kennedy Adventures has plenty to choose from!
Here is a devotional designed for you, mom!
Need some more great ideas, activities, and resources for your homeschool?
Bloggers from iHomeschool Network have your covered 🙂
Enjoy the Season
When all else fails, remember to keep it simple. You can enjoy this Christmas season while still accomplishing your educational goals. But ultimately, may we all focus on the significance of the season.
I hope you and your family truly enjoy the special time of the year! Merry Christmas!
Find more special ways to celebrate Christmas in your homeschool: