Candlewick Press kid lit is perfect for building your home library. And with good children's books you can do a lot more than just teach reading. You can spark the imagination of your young learners with a few simple ideas.
When my two boys were young, we made building a home library a priority. We believed in creating a language-rich environment so they could read and explore whenever something captured their attention. And we knew that having a variety of picture books, nonfiction, and kid lit would help us teach subjects beyond just how to read.
But there is another benefit to having great children's books for your homeschool. You can use kid's lit to spark your child's imagination.
I received the following books for free and was compensated for my time. All opinions are honest, and I was not required to post a positive review.
It only takes a spark…
Sparks are burning fragments that pop up off a fire, but they're also bright flashes, like the sparks of light reflecting off your sunglasses or electrical sparks given off by an engine. Some small thing that promises to grow larger is yet another kind of spark … (vocabulary.com)
Notice that last part. "Some small thing that promises to grow larger." The verb form of spark means "to ignite."
It really doesn't take much to spark the imagination of a child. There is something so whimsical about the way their minds work. Imagination is about being creative and resourceful—something that comes naturally to kids. If you ever doubt that, just give children some boxes and duct tape 😉 Or teens for that matter.
…to ignite their imagination.
Children are naturally drawn to stories, whether through words or pictures. These simple ideas can be used with any book to help your kids' imaginations come alive.
1. Encourage them to pretend.
Of course children do this naturally, but you can make suggestions since you are a ninja homeschooling mom! They can pretend
To be a character from the book. Then they can write a letter to another character or act out a scene from the story.
To be in the same situation as a character. Let them role play a scene with you or a sibling.
2. Ask questions.
Just consider the number of "what if" type questions you can ask. What if…
The setting was different?
A character made a different decision at some point in the story?
There was a different ending?
The story was told from a another point of view?
Or you can ask questions based on the pictures or story in your book. Let those questions lead to a conversation between you and your children. Taking to our kids will help them develop good thinking skills.
__________
__________
3. Make hands-on projects.
Most children love hands on projects. And they don't have to be overly complicated or messy (though really, messy isn't a bad thing!) Consider letting the story inspire a project such as a
Model
Diarama
Drawing or painting
Or create a stop-motion animated video of a scene from the book. My boys loved to use LEGOs and iMovie when they were younger.
4. Create something similar.
Your children can write poems and stories inspired by kids lit. They can even illustrate them in a similar style. Just like children can learn to write using copywork, they can learn to tell stories by imitating the ones they are reading.
Spark Your Child's Imagination with Kid's Lit From Candlewick Press
Let's look at how you can use these types of ideas with books from Candlewick Press. Candlewick offers a variety of quality fiction and non-fiction books for children and young adults perfect for these "sparky activities".
From a flamboyance of flamingos to a conspiracy of lemurs, this is a fabulous celebration of creatures from around the world and their weird and wonderful collective names. Catch a glimpse into their fascinating worlds and have fun with the simple search-and-find games on every page. With fresh and offbeat illustrations by new talent Hui Skipp, this is the perfect gift for curious young minds.
I love this colorful, creative book! With "search-and-find" questions on each page and fun little poems to capture your children's attention, young kids will grab this book for you to read to them again and again. At the end of the book you'll even find a section of "Did you see?" questions so your children can search the pages again. And there's a "Who's Who" section full of interesting facts about each of the featured animals.
Sparky Activities:
Choose an animal that isn't in this book and write your own short poem about it.
Draw or paint a picture of an animal in a similar style as the illustrations in the book.
Come up with your own "search-and-find" questions to ask a parent or sibling.
Find out what part of the world the different animals are from. Create a travel brochure to the place that includes information on the animal featured in the book.
Write your own collective names for other animals (like "a pandemonium of parrots" or a "caravan of camels").
Every night, a family — a mom, dad, boy, and girl — have supper and go to bed. But they're not alone. Every night, after that family is asleep, a secret mouse family emerges to find food for their supper, and the mouse children start to play. Then one night it happens: the boy spots a mouse, and his father calls the mouse catcher. Concerned, the children write a note to the mice ("your lives are in danger")…
This story reminds me of just how differently adults see things than children. And I love the illustrations in this book! I don't think I'll ever outgrow picture books. Mice are characters in so many children's books, and this one will be a great edition to a mouse-filled collection.
Sparky Activities:
Make your own mouse size playground.
What if the story was told from the perspective of the mice? Try writing the new story down and illustrate it in a similar style.
Pretend you are one of the mice and write a letter to the children in the story. Or write a letter to the father about why you should be able to stay.
Write a poem about the mice living in the house or out in the backyard.
Beloved storyteller Kate DiCamillo and cartoonist Harry Bliss introduce some delightfully doggy dogs in a warm, funny tale of a timid pup who needs a friend.
Sometimes it is hard for our kids to make friends. This book invites children to think about what it means to meet new people and become friends. It is the perfect springboard to talk to your kids about loneliness, friendship, and of course, cute little dogs 😉
Sparky Activities:
Good Rosie is written in a type of graphic novel or comic book form. Create your own graphic book about your pet or other animal.
Pretend you feel lonely and want to make friends. What will you do? Act it out with a parent or sibling.
What if one of the other dogs was the main character? Write the story from either Fif' or Maurice's point-of-view.
What if the characters were cats? What type of things would they do with one another?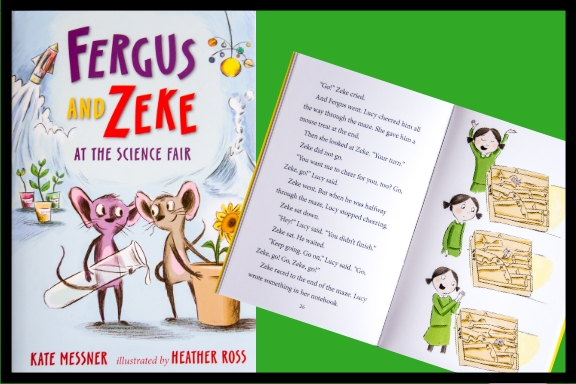 Fergus and Zeke love being the class pets in Miss Maxwell's classroom, and they do everything the students do — listening at storytime, painting masterpieces during art class, and keeping their own special journals. But when it's time for the school science fair, the mice aren't sure just how to get involved. Lucy wants to time them as they run through a maze, but they want to do an experiment, not be an experiment….
Here is a another great selection for your mouse-filled library of books. I actually found myself smiling through this delightful book about two mice that do their own experiment on their unsuspecting student. (And don't miss the first book Fergus and Zeke!)
Sparky Activities:
Do your own science experiment. You can even get some friends together to do a whole science fair 😊
Build or draw a maze.
Ask some "what if" questions based on the story. For example, "What if at the end…(You didn't think I was going to spoil the ending, did you? Get the book. It is really fun!)
Write or act out a story based on your own pets.
Discover the inner workings of eight of the most incredible flying machines of all time in this lift-the-flap book by the best-selling, award-winning illustrator Stephen Biesty. With amazingly detailed drawings and more than forty flaps, young readers can meet some of the early aviators and their pioneering aircraft, peek inside a luxury flying boat, and see the technology of a rocket space plane. Packed with fun facts, this is the perfect introduction to planes and helicopters from all over the world.
Both of my boys were big fans of lift-the-flap books when they were young. But this one is on a whole other level. After reading this book you may find your children sharing interesting facts—with you and everyone they meet—about flying machines from the early pioneer aircraft to the space shuttle. The detailed drawings and variety of facts will entice your children no matter what their ages are (and we know that secretly even older kids like to lift-the-flap and see inside!)
Sparky Activities:
Build a model airplane with a kit or legos.
Draw a vehicle or boat in the same style and write interesting facts about it around your drawing.
Find out more information about one of the facts you learned and share with your family.
Write a story that includes one of the flying machines featured in this book. Use the details and facts you learned in the book.
City by Ingela P. Arrhenius
Iconic urban images are featured on every page — from subways to skyscrapers, museums to cafes, fountains to sidewalk newsstands. Each bold, graphic image is set apart by a different typeface, transforming a whimsical celebration of cities into an artfully designed title for every bookshelf.
This is truly a BIG book. Literally! As your family explores this book, city kids will see their streets in a whole new way. And children from rural areas can walk with you along some very different streets then the ones they are used to. That is one of the things I love about books: they open up new worlds for us all.
Sparky Activities:
Look very closely at one of the pages. Ask questions like "Where do you think the different people might be going? What might they be thinking?"
Tell a story based on one of the pages..
Write a poem or story based on one of the pages.
Take a walk and draw some of the things you see in a similar style.
Find Quality Kid Lit at Candlewick Press
These are just a few examples of the MANY and varied books available from Candlewick Press. Be sure to download the Fall-Winter 2018 catalog! And find more learning activities with Teach Language Arts with Real Books from Candlewick Press.
A Discount Offer for You
Order directly from Candlewick.com and enter discount code CANDLEWICK at checkout to receive a 25% discount. Woo hoo, I love discounts on books!