Apologia Physical Science not only gives your middle school students a solid science education, it also helps them to transition into high school learning.
When you look back on your middle school years, what do your remember about them? I think so many of us just felt awkward. We weren't little kids anymore; we wanted to be treated more like adults. And yet, there were times we didn't want to grow up at all.
Your middle schoolers are probably feeling the same way—wanting more independence, and yet still needing YOU in so many ways.
How can we help our middle schoolers transition from their elementary years to the high school ones? By choosing resources that encourage them to take ownership in their own education, while still supporting them in the process.
I received this product for free & was compensated for my time. All opinions are my own, and a positive review was not required.
Apologia Physical Science is an award winning science curriculum that homeschoolers have trusted for years. Written in a conversational tone, this textbook doesn't read like the textbooks you probably grew up reading.
Throughout the book you'll find experiments that will solidify your students understanding of concepts. It's sometimes tempting to leave these out when things get busy, but don't! Your students will enjoy the course more, understand the concepts better, and be more prepared for high school science studies.
The experiments are not the only aspect of the curriculum that will help them transition to high school science studies, though.
How Apologia Physical Science Helps Students Transition to High School
Apologia designed this physical science curriculum with middle schoolers needs in mind. The Student Notebook may not be required, but I can't emphasize enough how much it is needed. Especially if your goal is to prepare your students for high school level work and responsibility.
Teaches Middle Schoolers to Be Independent Learners
Notice I said teaches. Personally, I'm not a fan of teaching kids to swim by throwing them in the deep end. I'm also not a fan of just handing our tweens a textbook and saying, "You're on your own now." Apologia guides your student, step-by-step, to become more independent in their studies.
In the student notebook, you'll find:
Teacher helps. Spend some time at the beginning of the year reading through the introduction of the Student Notebook. You'll understand the purpose of it better, and how you can support your student. It also gives guidance on the experiments, how to grade, and what to expect. There's even a grade recording chart provided.
Student notes. These are written directly to your student and explain how to use the student notebook, why they should take notes, and ideas about how to take notes. The Student Notebook itself will help guide students through the process with prompts, questions, and more.
Schedule. At a glance, your student can see exactly what they will be doing each week. The entire course is laid out for them using a four day schedule. And at the beginning of each day's lesson, there's a "What To Do" section that breaks the assignments down even further.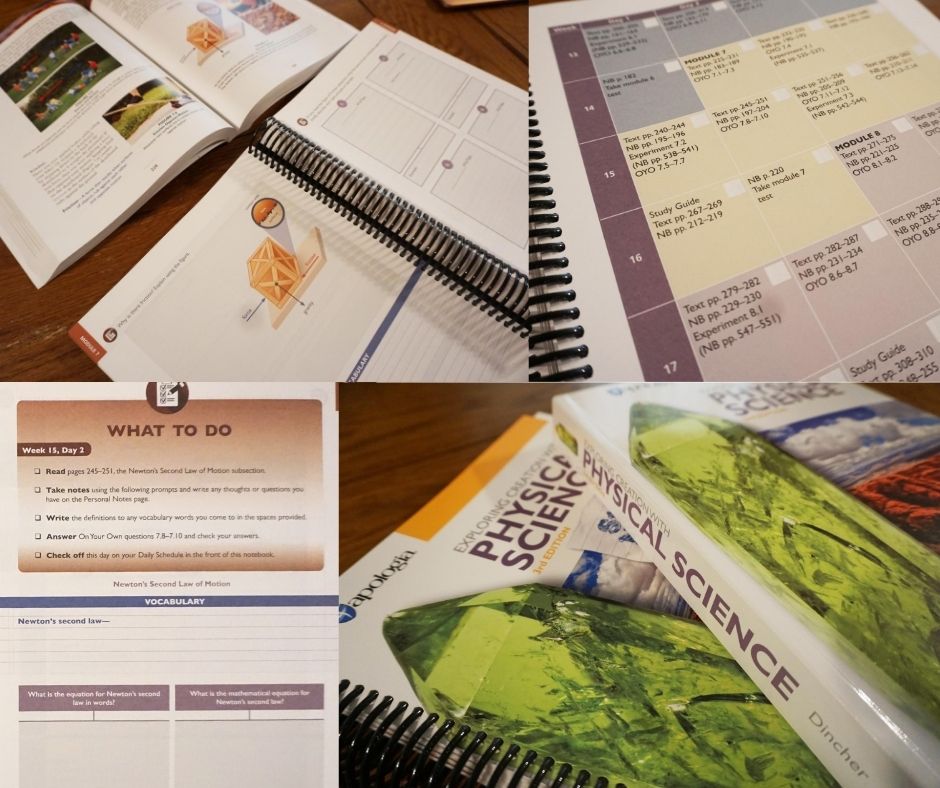 Lays a Strong Science Foundation
Physical science will lay a strong foundation for high school studies. It begins by covering the basics— everything from the scientific process to measurements and units.
Next students learn about topics in chemistry such as states of matter, the periodic table, chemical reactions, and more. Then they're introduced to the study of physics like the laws of motion and forces and electricity. Finally, students study earth science as well as chemistry and physics in the life sciences.
Throughout these studies, students learn how to do experiments and complete lab reports. Many universities require lab sciences during a student's high school years. By starting in middle school, your teen will already understand how to do an experiment the right way, and how to write up a good lab report.
Helps You Support Your Students
Learning Styles
Knowing your children's learning style will help you support them with the resources they need. Apologia's Physical Science textbook, student workbooks, test and solutions manual, and other resources make addressing individual learning styles easy.
Visual learners will love the colorful pictures, graphs, charts, and illustrations in the textbooks. Hands-on activities and experiments will help solidify concepts for the kinesthetic learners, while optional audio textbooks are available for auditory learners.
If your child is a visual learner, does that mean they don't need the experiments? No! Kids have a mixture of learning styles, and by addressing multiple ones they will learn the material better!
Apologia Online Academy
With choices of live classes or video-on demand, Apologia can help students who benefit from interactions with a qualified instructor and other students in a virtual classroom. Whether you are a working parent, have multiple kids needing you all at the same time, or have a student who needs a different way to learn—the online academy can help.
Learn More About Apologia Physical Science Curriculum Today
Apologia's junior high science courses help your students interactively participate in their educations by fostering their natural inquisitiveness. We recognize that to cultivate curiosity, we must partner with it. Throughout their middle school years, your students will experience personal scientific encounters that turn facts into a meaningful and natural extension of what they already know about their world and their Creator.

apologia.com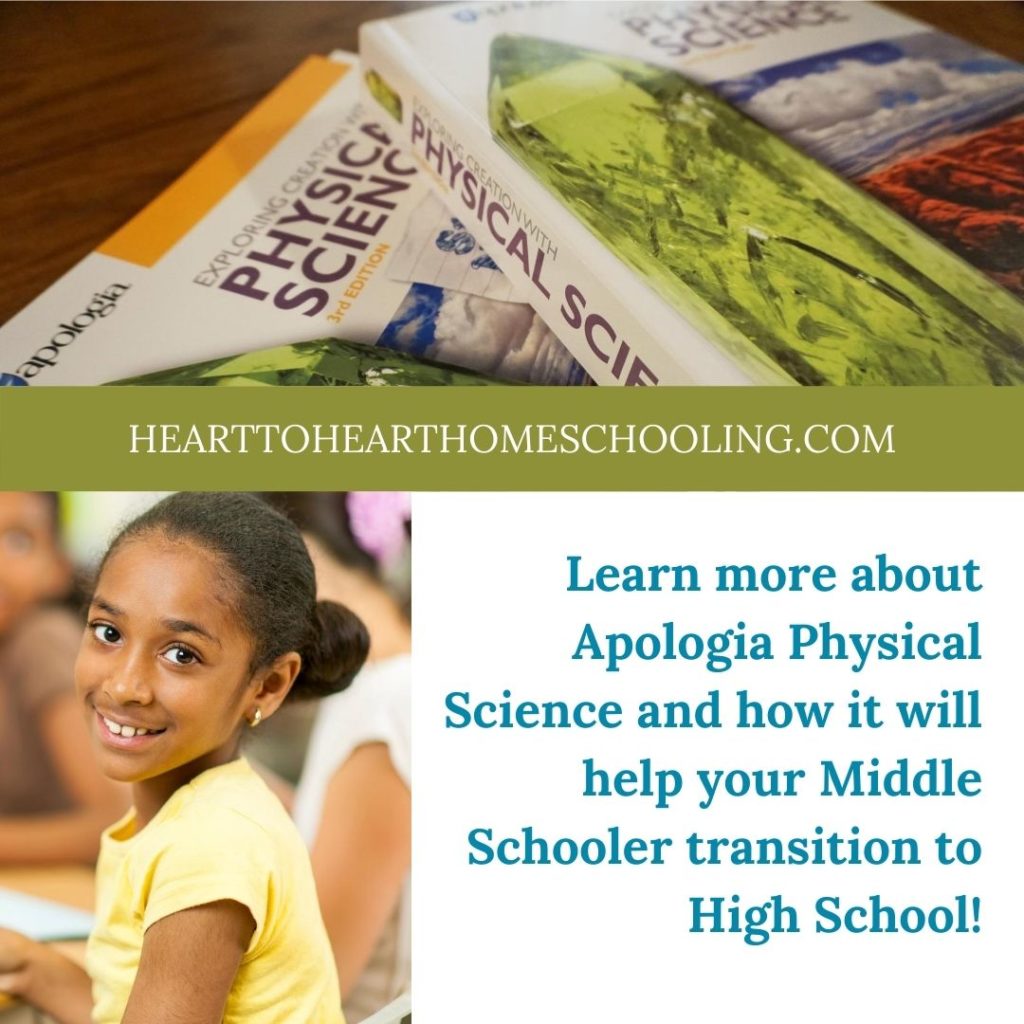 Giveaway
Don't miss this incredible giveaway from Apologia!